Sentinel is a unique Asset Management System which also incorporates Barcode and RFID Technology. This system was developed to address specific needs of various clients in terms of Asset Tracking and Tracing.  Sentinel keeps track of all the assets within a company related to a Department, Cost Centre  and a Custodian. These assets current values can be calculated at any time which will also include up to date depreciation according to South African Revenue Services guidelines.

The Sentinel software will electronically takes care of all your assets Details and Locations.  Assets will be stored in the system for audit and tracking purposes.  A real time asset register will be available at any time to the user. There is also a comprehensive reporting facility built into the system.  Assets may be also transferred, maintained or even disposed off through a strict workflow process.  User permissions allow for users to have access to stipulated areas of the application.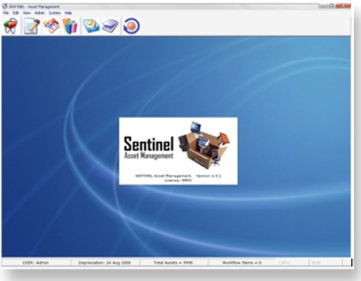 With the aid of Innovative RFID technology Sentinel is able to keep a track of all movable assets entering and leaving the building.  All entrance and exit points within a building will require a RFID reader.  This will ensure that all assets that are tagged with a RFID tag will be monitored and logged onto an AMANDLA database when entering or leaving the building.
The RFID readers will also give an Audible Beep to warn security that an Asset is entering or leaving the building. Fixed assets therefore will need prior notice and administrative acknowledgement before they can be moved out of a Building that is monitored by RFID readers. 
An integrated CCTV camera can also be installed at entrances where the RFID readers are situated. When an Asset is detected by the RFID reader, a snapshot can be taken of that area in real time for additional security.  The RFID is however an optional extra. Asset stock taking is also made easier by utilizing a portable device that connects via blue tooth to a portable barcode scanner or RFID reader. This will make Asset stock taking much easier.
The Sentinel asset management application incorporates the following: